Welcome To
New Salon of Brookfield
Tanning & More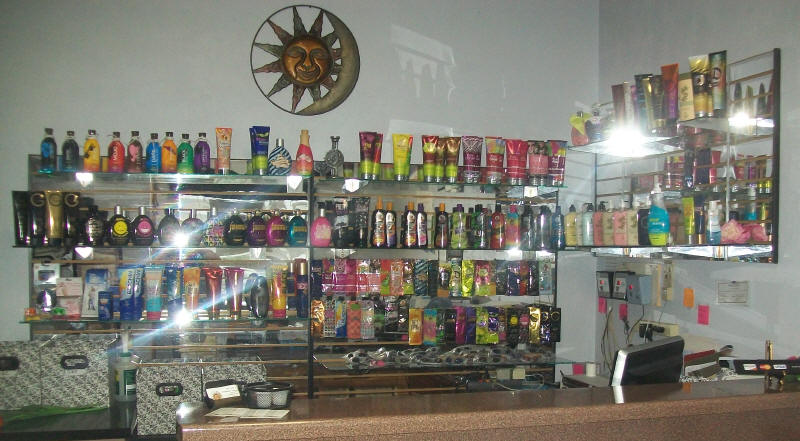 We are Your Tanning Salon
With the very best In Tanning
Beds and Booths, Lotions
We are Open,
Stop On In
Hours
Monday
9:00 to 7:00
Tuesday
9:00 to 7:00
Wednesday
9:00 to 7:00
Thursday
9:00 to 7:00
Friday
9:00 to 7:00
SaturdayWinter &Spring Hours
November 1 ----- May 31
9:00 to 5:00
Saturday Summer Hours
June 1 through October 31
9:00 to 3:00
Sunday
Open by appointment on Sundays
Please call during normal hours
Welcome
Stop on in Today

No appointment needed for the Tanning Beds or Booths

Students tan for $4.00

We have the very best in tanning and health.
Stop On In

Royal 8,000 Watt level 3 Bed
10 Session $49.00
Students 10 Session $40.00
One month Unlimited Level 4 10,000 Watt Bronzer Booth
/Royal 8,000 Watt Level 3 Bed $69.00
You Get Both so you can switch them up
Say You Saw the Internet Special and Save
Two Week unlimited Royal 8,000 bed's
$15.00
Good Through October
Say You Saw the Internet Special and Save
One month unlimited in High Pressure Bed
$120.00
Good Through October

Clean, Comfortable, Relaxing and Safe.
(Air Conditioning pumped into all rooms)
Plenty of Parking Close to the Door
Packages that can't be beat
Click here for
Our Rooms and Our beds
Our Beds start at $4.00.
Get a points package and save, save, save.
The More you Buy the More you Save.
Single Sessions, Multiple Sessions, Unlimited Monthly Sessions,
Monthly Memberships,
Numbered Memberships,
We Have Morning Memberships Available
Samplers that can be shared
You can sample our different beds and booths
Vacation Specials !!!!!!
Stop in to see our Specials.
We even have Morning Specials.
We give you the best Value for your $$$$
All our tanning beds are easy to get into and very comfortable,
They have a flat in the middle so you can spread your
Arms and legs out to get those hard to tan areas with comfort.

If you don't want to Lay down you can always use one of our Booths.

Lamps are maintained on or before Manufacturers Schedule.
Come on over and see for yourselves.
We don't have any level 1 or Level 2 Home Beds
All our Tanning Beds and Booths are Commercial Tanning Beds and Booths
Designed for giving you the best Tanning experience and best tan for your money and time.

2-Ultra Bronzer Supernova: High-Pressure Soft Mattress Beds: With 21 1,000 Watt High Pressure lamps
21,000 Watt Bed
1-Ultra High-Pressure Bronzer Booth: With 26 1,000 Watt High Pressure Lamps
26,000 Watt Booth
1-Supernova: 15 High-Pressure Lamps on top and 20 Signature series plus on the bottom
21,000 Watt Bed
(Its the best of both type beds)
1-Mega Bronzer Booth With 60 Full Size Body Lamps and 27 Facial Lamps
10,000 Watt Booth
1-Mega Bronzer Turbo Bed: 52 Bronzing Lamps and 500 Watt High pressure Facial Lamps
14,000 Watt Bed
4-Royal Sun Turbo 8000 Beds: 36-Bronzing Lamps /3 High pressure Facial Lamps
8,000 Watt Bed
1 -Red Light Therapy bed 36 Red Light Therapy Lamps "NO UV"
Come on in and Try It Out
10-15 min sessions for $40.00 Normally $70.00
We Have In Stock
Lotions, Lotions, and more Lotions
We are told we have the best selection

In Salon Sale on Lotions
Stop In And Save

Australian Gold, Designer Skin,
Swedish Beauty, G Gentlemen, JWOWW,
ED Hardy, Hempz, Hemp Nation
And Much Much More
We Have the sought after SudaTonic Infrared System
Burn up to 1400 calories per session
Reduce fat & cellulite
Detoxify skin & body
Improve skin tone
Increase metabolism & energy
Improve auto immune system
Improve circulation & cardiovascular
Reduce stress & fatigue
Reduce aches & pains
One for $49.99
Two for $95.00
Call and schedule your
SudaTonic Infrared System appointment
Today
We accept



Thank You For Looking
and a BIG THANK YOU
TO ALL OUR CUSTOMERS