Welcome To
New Salon of Brookfield
Tanning & More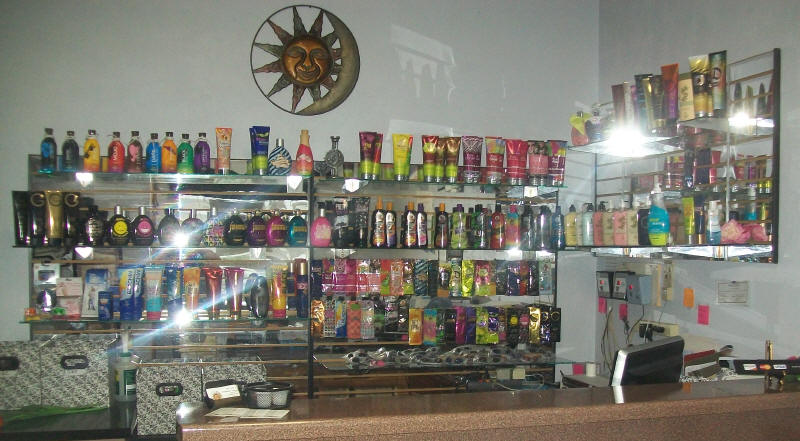 We are Your Tanning Salon
With the very best In Tanning
Beds, Booths and Lotions
We are Open,
Stop On In
Hours
Monday
9:00 to 7:00
Tuesday
9:00 to 7:00
Wednesday
9:00 to 7:00
Thursday
9:00 to 7:00
Friday
9:00 to 7:00
Saturday
Winter & Spring
November 1 ----- May 31
9:00 to 5:00
Saturday Summer & Fall
June 1 through October 31
9:00 to 3:00
Sunday
Open by appointment on Sundays
Please call during normal hours
Its Spring Stop on in!
50% off All Sample Lotions
Don't forget we have A Early bird Special

Past Winners
Amy E
Amanda B
Kim P

Congratulations go to Tracy F you are April's Winner
Winner of One Ultra bronze booth or bed

Congratulations go to????????? you are May's Winner
Winner of One Ultra bronze booth or bed
IS IT GOING TO BE YOU?

Stop on in Today

No appointment needed for the Tanning Beds or Booths
No Contracts, No Automatic Withdrawals

We do not Keep your Credit Card info on file

No Coupon's Needed, No Bull

Just Come on in, RELAX and TAN!!!

We don't rush you!
You have plenty of time to put your lotion on.

Students tan for only $4.00 Yes $4.00
Cash price please on $10.00 purchases or less

We have the very best in tanning and health.
Come On In And
Start your tanning today

Specials on now
Remember to get the special
tell us you saw it on the internet

Limited Time
Save and get the Single Session Tan In The Royal 8,000
for only $5.00
Cash price please on $10.00 purchases or less
Come and try out our Sun Terrace Bed
High Pressure Lamps on top
Low Pressure Lamps on the Bottom
10 for $100.00 Normally $18.00 a session
One month Unlimited
Level 4 10,000 Watt Bronzer Booth
& or Royal 8,000 Watt Level 3 Bed
for only $69.00
You Get Both so you can switch them up
Tell Us You Saw the Internet Special and Save!
Get The One Month Unlimited Royal 8,000 bed's
Its Back one month for $49.00
4 - Numbered Ultra Bronze High Pressure Beds or Booth
with unlimited Royal $1.00 co-pay sessions
Only $69.00 per month over $250.00 in value
Limited Quantity on this package Available
Clean, Comfortable, Relaxing and Safe.

(Air Conditioning pumped into all rooms in the summer)
(Heat pumped into all the rooms in the Winter)
Plenty of Parking Close to the Door
Packages that can't be beat
Click here to see
Our Rooms and Our beds
Get a points package and save, save, save.
Save 45%
The More you Buy the More you Save.
Single Sessions, Multiple Sessions, Unlimited Monthly Sessions,
Monthly Memberships, No Contract
Numbered Memberships, No Contract
We Have Morning Memberships Available, No Contract
Three different Samplers that can be shared
You can sample all of our different beds and booths,
Silver $55.00 ($71.00 value)
Gold $75.00 ($88.00 value)
Platinum $99.00 ($139.00 value)
Do you want to tan for your vacation?
No Worries I have a Special for you too
Vacation Specials !!!!!!
Stop in to see our other Specials and packages
&
Choose the one that best fits you
We even have Morning Specials.
Come Tan before 12:00 and save more.
Only $59.00 Its over $500.00 in value!
Mornings One Month Unlimited tanning sessions in
Royal, Mega booth, Mega Bronzer, Sun Terrace
Your pick and it also
Includes 2 numbered Ultra Bronze sessions
In A High Pressure Ultra Bed or Booth
We give you the best Value for your $$$$
All our tanning beds are easy to get into and very comfortable,
They have a flat in the middle so you can spread your
Arms and legs out to get those hard to tan areas with comfort.

If you don't want to Lay down you can always use one of our Booths.

Lamps and Acrylics are changed before Manufacturers maintenance Schedule,
To Ensure you get the best tan possible

Come on over and see our beds and booths for yourselves.
We don't have any level 1 or Level 2 Home Beds
All our Tanning Beds and Booths are Commercial Tanning Beds and Booths
Designed for giving you the best Tanning experience and best tan for your money and time.
All Our Beds and Booths Have Facial Lamps most can be turned off if you like.



2-Ultra Bronzer Supernova: High-Pressure Soft Mattress Beds: With 21 1,000 Watt High Pressure lamps
21,000 Watt Bed
1-Ultra High-Pressure Bronzer Booth: With 36 1,000 Watt High Pressure Lamps
36,000 Watt Booth
1-Sun Terrace II: 15 High-Pressure Lamps on top and 20 Signature series plus on the bottom
21,000 Watt Bed
(Its the best of both type beds)
1-Mega Bronzer Booth With 60 Full Size Body Lamps and 27 Facial Lamps
10,000 Watt Booth
1-Mega Bronzer Turbo Bed: 52-180 watt Bronzing Lamps and 500 Watt High pressure Facial Lamps
14,000 Watt Bed
4-Royal Sun Turbo 8000 Beds: 36-180w-200w Bronzing Lamps /3 High pressure 500 watt Facial Lamps
8,000 Watt Bed
1 -Red Light Therapy bed 36 Red Light Therapy Lamps "NO UV"
Come on in and Try It Out

TEN -15 min Introductory Red Light sessions for
$40.00
We Have In Stock
Lotions, Lotions, and more Lotions
We are told we have the best selection of Lotions
Now Over 150 Different lotions in stock
and
Now Over 75 Different Sample packets in stock
Special orders are always welcome

In Salon Sale on Lotions
50% off All Sample Lotions
Stop In And Save
If you have a tanning package some place else
no problem.
Come on in and check us out
you will like our selection and prices!

Australian Gold, Designer Skin, Devoted Creations, Emerald Bay, California Tan
Swedish Beauty, Botanica, Kardashian, Boutique, G Gentlemen, Caribbean Gold, JWOWW,
ED Hardy, FIESTA SUN, Hempz, Hemp Nation, Pro Tan, TAN Inc, PlayBoy, Beauty With Light
We stock INSTANT SUNLESS Mousse, INSTANT SUNLESS Spray, INSTANT SUNLESS Lotion
We have EXFOLIATOR Scrub and We have Facial Tanning Lotions
WE stock RED Light Lotions, Spray,

And Much Much More
If I don't have the lotion you want in stock
I WILL TRY my best to get it for YOU just ASK!
"AT NO EXTRA CHARGE"
We Have the sought after SudaTonic Infrared System
Burn up to 1400 calories per session
Reduce fat & cellulite
Detoxify skin & body
Improve skin tone
Increase metabolism & energy
Improve auto immune system
Improve circulation & cardiovascular
Reduce stress & fatigue
Reduce aches & pains
One for $49.00
Two for $95.00
Ten for $400.00
Call and schedule your
SudaTonic Infrared System appointment
Today
We accept



Thank You For Looking
and a BIG THANK YOU
TO ALL OUR CUSTOMERS