Going on now
$10.00 Mondays Mystic Spray Tan
Yes $10.00 Spray tan
Spray Tan for Only $10.00 on Mondays
We Have A Mystic Tan Spray Booth
Come on in and try it out Today
You Can Customize your tan with our Mystic Tan Booth

Choice of one Mystic Tan Solution is Free with each session
Mystic Tan Solution Luminous Light Cartridge 4oz
Mystic Tan Solution Medium Cartridge 4oz
Mystic Tan Solution Dark Cartridge 4oz

Add Ins
Choice if you want to use a accelerator $6.00 + session

Choice of Bronzer's
Sun-Kyssed Single Bronzer $3.00 + session
Sun-Kyssed Triple Bronzer $5.00 + session
Mocha-Kyssed Single Bronzer $3.00 + session
Mocha-Kyssed Triple Bronzer $5.00 + session
Honey-Kyssed Single Bronzer $3.00 + session
Honey-Kyssed Triple Bronzer $5.00 + session

Choice of Scent
Coconut Lime Scent Myxer $2.00 + session
Fresh Scent Myxer $2.00 + session
Sport Scent Myxer $2.00 + session
Warm Vanilla Scent Myxer $2.00 + session
We also have "In stock"
All the Mystic Tan Take home products
Mystic Tan Island Kyssed Bronzer Lotion 6.0 oz
Mystic Tan Island Kyssed Bronzer Spray 6.0 oz
Mystic Tan Mocha Kyssed Bronzer Lotion 6.0 oz
Mystic Tan Mocha Kyssed Bronzer Spray 6.0 oz

Mystic Tan BOOSTER "counters orange undertone & accelerates Spray tanning results"
AND We Have The
Mystic Tan Streak Free Applicator Mitt

Come Try it out and bring a friend
Special Introductory price
MYSTIC TAN buy one get one FREE
That's Two Spray Tans for $20.00 $10.00 ea
Sessions can be shared Unlimited Can NOT be shared

Half the price of other salons

MYSTIC TAN Special's
This Month
1 session
$20.00
4 sessions
$55.00 that's only $13.75 ea
10 sessions
$120.00 that's only $12.00 ea
One Month
$65.00
Three Month's
$155.00
One Year
$400.00
Sunless Spray Tanning
Why a spray tan?
* Applies in Seconds and Lasts for Day's
Mystic Tan creates an even, natural looking tan with it's
Patented MagneTan technology
* Some people just cant tan using UV
So it makes for an alternative way to get your tan on.

* Many UV tanners use spray tanning
to supplement their UV tanning.
Sunless Spray Tanning frequently asked questions
How to prepare for your Sunless Spray Tanning Session ?
Exfoliate and shave the day before or the day of your sunless
spray session. (day before is preferred).
The day of the sunless spray tanning session refrain from using
moisturizers, perfumes, lotions, oils or deodorants that may
create a barrier between the skin and the sunless tanning solution.
You may resume using these after your first shower or bath.


How long should I wait after a session before showering?
To give the DHA enough time to fully set, it is recommended to
wait a minimum of 8 hours after a sunless spray tanning session
or 24 hours for optimal results. Showering sooner may diminish
the intensity of the tan. If you tan using an instant Cosmetic
Bronzer, the instant cosmetic color will wash off in the shower,
but the color produced by the DHA will remain.
Will swimming affect my tan?
Swimming in chlorinated water or salt water can fade the
sunless spray tanning results, cause possible streaking and
diminish the length of your tan. however, normal activities
such as bathing, showering or physical activities
will not affect the quality of the tan
Will my skin look orange?
No. The advanced technology currently used in sunless
tanning solutions is designed to ensure a natural,
bronzed tan. We at New Salon of Brookfield will help
you select the proper level of tanning solution to
best match your skin tone.
Does sunless spray tanning solution have an odor
after contact with my skin?
MysticTan sunless spray tanning solution use breakthrough
odor control technology designed to virtually eliminate the odor that may be present when the solution interacts with the skin.
Will the cosmetic bronzer stain clothing?
No, the sunless spray tanning solution which includes a cosmetic bronzer is water soluble and will be removed after the next wash
in cold water. However, in some instances. the DHA in the
tanning solution may permanently stain undergarments
worn during the spray session.
How long does a sunless spray tan last?
A sunless spray tan can last up to 5-7 days depending on the
solution you select and the condition of your skin.
Are there ways to enhance the sunless spray tanning results?
Yes

Make sure you wear loose-fitting clothing the day off your spray tan
Sunless spray tanning is a spray mist application of Sunless tanning solution to your body. applying DHA ( its the active
ingredient in Sunless tanning solution) that reacts with the proteins in the skin's superficial layer to form a golden brown color.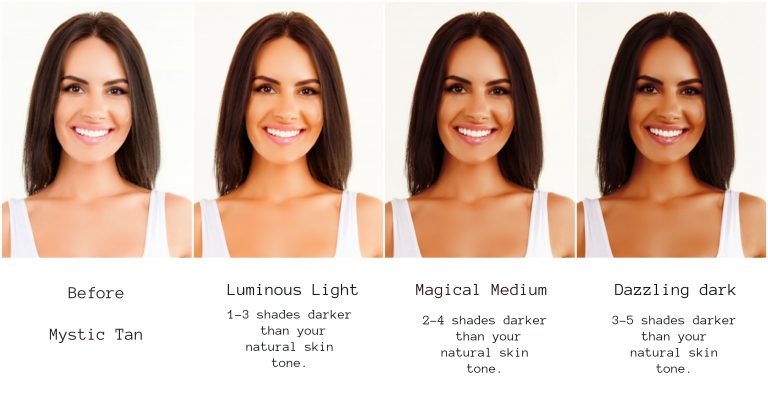 PREPARING FOR A SUNLESS APPLICATION
| | |
| --- | --- |
| | Exfoliate your skin at least 8 hours before your sunless session to smooth skin for even tanning results. Spend a little extra time on knees, elbows, feet, and hands. |
| | Shave at least 6 hours before your sunless tanning session. We always suggest shaving with soap and water only — no shaving cream, as shaving creams contain lanolin (an oil) that acts as a barrier between the tanning solution and the skin. |
| | Any waxing should be done 24-48 hours prior to your sunless tanning. |
| | If skin is dry apply a light water based lotion lightly and evenly to skin at least 2 hours prior to your sunless tan. |
| | Do not apply oils at any time prior to or after your sunless tan. |
| | Remove make-up prior to your sunless tanning application for best results. |
| | After your sunless tan wear dark loose fitting clothing. |
| | Do not wear wool, nylon, or silk during or after your sunless application and for at least 8 hours as DHA may react with these fabrics and cause staining. |
AFTER YOUR SUNLESS APPLICATION
| | |
| --- | --- |
| | Wait at least 6-8 hours after application if accelerator is used before you shower. For the very best results Wait 24 hours before you shower. This will allow time for the self-tanning reaction to occur on the skin. |
| | Don't worry if you see color wash off from your first shower, this is normal. What you see washing off is the immediate cosmetic bronzer and what is left behind is a beautiful sunless tan. |
| | Do not apply moisturizer until after your first shower, for this could affect the immediate reaction of the sunless solution on the skin and cause streaking. |
| | Do not exercise until after your first shower. |
| | Moisturize daily, especially after bathing, to maintain your sunless tan. For best results use a water based moisturizer. Don't use oil based moisturizers, they can cause blotchiness. |
| | Do not exfoliate skin for at least 48 hours after your sunless tanning application. When you do exfoliate, do so gently and evenly to preserve an even sunless tan. |
| | If sun-bathing remember to wear a sunscreen. Sunless products do not contain sunscreen. Although you look like you have a tan, you will still need a sunscreen to prevent your skin from burning. |
NO APPOINTMENT NECESSARY