The best price and service around
Sale on now
Ten 15 Minute sessions for $55.00
Red Light Therapy Full Body Bed With
36-180 Watt/ Red 633nm Lamps
and
20 Minute LED Facial Lamps
your choice of facial wavelength
Red Light LED 640nm, Blue Light LED 423nm,
Green Light LED 532nm, Yellow Light LED 583nm

Bring back youth to your face without Surgery or Botox
Red light waves have been known to relieve pain.
Red light waves can eliminate scars and kill the bacteria in acne.
The Proven Benefits of Red Light Therapy
Anti-Aging, Skin Rejuvenation
Red light easily penetrates the skin, boosting circulation and brings more blood therefore more nutrients to the skin
It stimulates collagen and elastin production which makes for youthful skin
Collagen helps plump up the skin, while elastin firm the skin.
The red light energizes and repairs damaged cells,
Younger looking skin.
When you boost your collagen production it doesn't only rejuvenate your skin- It repairs many types of skin damage,
Scarring
Burns
Acne Scars
Rosacea
Eczema

Psoriasis

Athlete's foot
Red Light Therapy is also good for pain relief
Herniated and Bulging discs
Muscle related back pain
Osteoarthritis
Fibromyalgia
Pulled and strained muscles Muscle Spasms
Inflammation
Nerve injuries
Sport injuries - Bone fractures and chips, Sprains, Tennis elbow etc
Neck pain and stiffness
Neuropathy
What is Red Light Therapy
and
Proven Benefits
New
LOW LEVEL FACIAL THERAPY
INCLUDED WITH RED LIGHT
Precautions:
* Clients should wear protective glasses during session
* Apply sunscreen product after session
* Avoid any activities that can irritate skin (Such as exercise or sauna)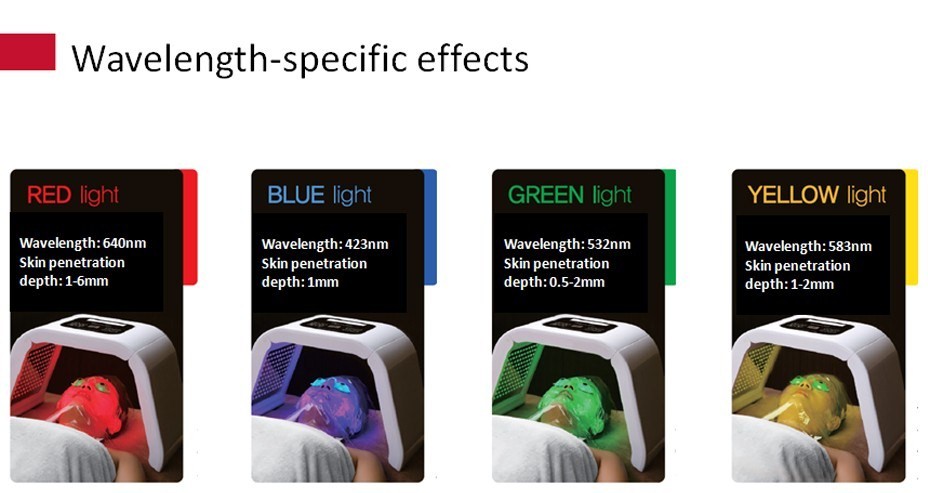 Targets cells beneath skins surface & stimulating them so they can produce new collagen & fight off breakout causing bacteria.

| | |
| --- | --- |
| | Revitalizes Skin cells |
| | Accelerates blood circulation |
| | Relieves acne scars |
| | Atopy, athlete's foot, psoriasis |
| | Pain relief |

Attacks PP-9, producing singlet oxygen. Singlet oxygen is very toxic to the acne bacteria, therefore decreasing acne drastically.

| | |
| --- | --- |
| | Sterilization of acne bacteria |
| | Control of sebaceous glands |
| | Prevent inflammation of wounds |
| | Calming effect on troubled skin |

Affects cells that produce melanin, reducing its production. Over time spots will fade away for a rejuvenated and even complexion.

| | |
| --- | --- |
| | Calm, soothing effects |
| | Shows improvement on sensitive skin |
| | Relaxation of mind and body |

Effective in treatment of skin issues involving redness, and is ideal therapy for sensitive skin.

| | |
| --- | --- |
| | Red spots and blushing treatment |
| | Relief of herpes in early stages |
| | pigment lesion |